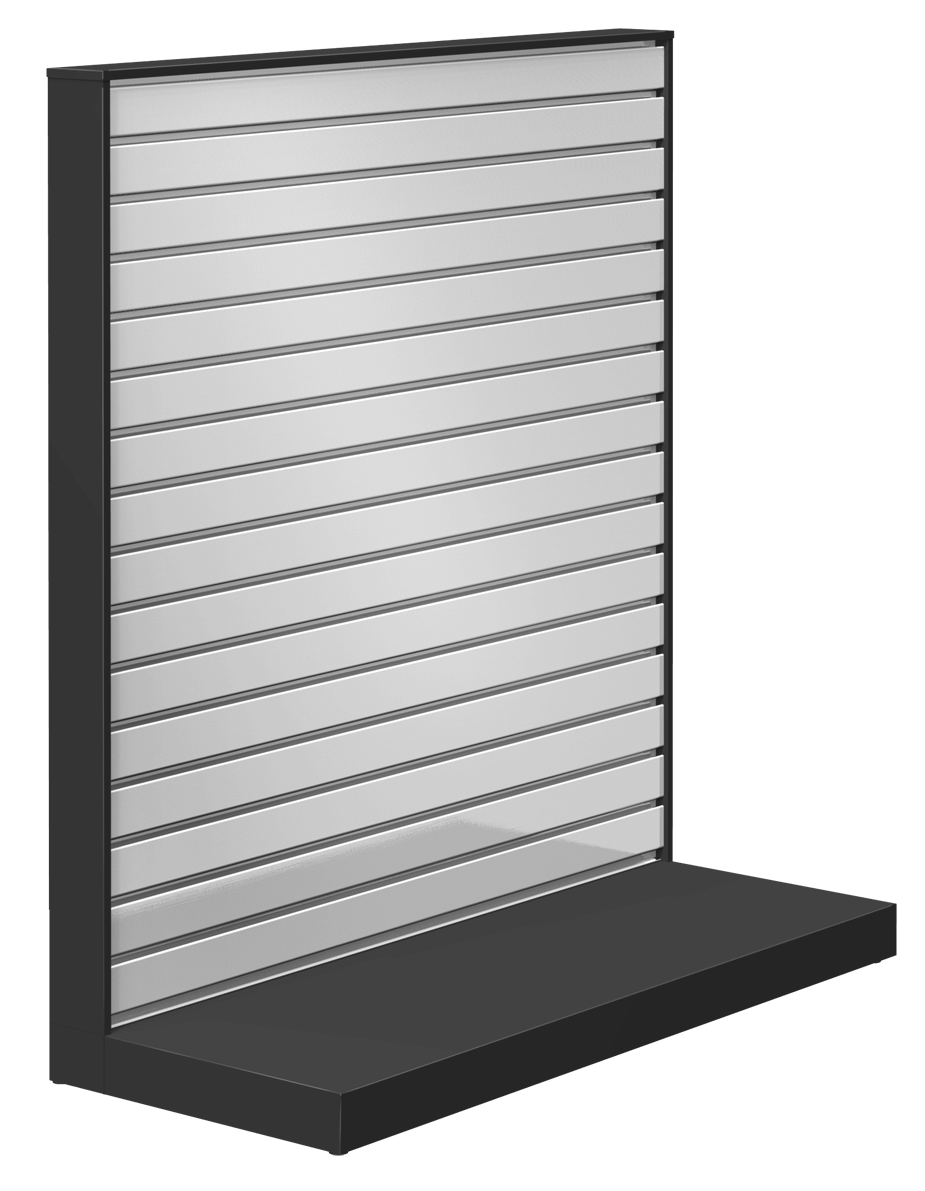 Focal Point Product Display
Designed to foster interest and customer engagement, the Megawall L-frame unit helps boost impulse sales in a variety of retail environments. That's because its tall, straight-back design is a prominent fixture to draw the eye and direct traffic. It comes freestanding or wall-backed and has a slotted front for use with pegs, brackets and shelves.
Product Specifications
Sizes
There is a variety of sizes to choose from
Steel Finishes
White, Galvanized, Candy Apple Red, Candy Apple Blue, Swirl, Dove Gray, Black, Beige, Platinum, Clear On Steel, Clear On Brushed
Aluminum Finishes
White, Anodized
---
Download Brochure
Durable Construction
Unlike conventional displays that warp and bend over time, Megawall L-frames are made from either aluminum or steel. Steel construction offers high-quality strength, while aluminum construction provides durability with a polished look. Both can hold up to 50 lb. per linear foot and will withstand heavy use for many seasons to come. Aluminum and steel models are also easy to clean and require minimal maintenance, but the aluminum frame specifically is dust and formaldehyde resistant for added toughness.
To suit your retail needs, the L-frame styles come in a range of lengths and widths (see brochure for details). The deck at the bottom affords additional product space.
Standard & Custom Finishes
Here at Megawall, we know the importance of product display. That's why our units can be customized to meet your brand image, from standard colors, like black, white and gray, to specialty finishes. So if you're replacing an existing unit and need to match your other fixtures, you'll be able to customize this L-frame to your requirements.
| Part # | Dimensions |
| --- | --- |
| 24L-5416-3 | 24" W. X 54" H. 16" DECK |
| 24L-7816-3 | 24" W. X 78" H. 16" DECK |
| 24L-8416-3 | 24" W. X 84" H. 16" DECK |
| 36L-5416-3 | 36" W. X 54" H. 16" DECK |
| 36L-7816-3 | 36" W. X 78" H. 16" DECK |
| 36L-8416-3 | 36" W. X 84" H. 16" DECK |
| 48L-5416-3 | 48" W. X 54" H. 16" DECK |
| 48L-7816-3 | 48" W. X 78" H. 16" DECK |
| 48L-8416-3 | 48" W. X 84" H. 16" DECK |
Need assistance picking out the perfect product display for your space?
Submit questions through our convenient online form, or call us at 800-948-2736
to place your order today.
Contact Us